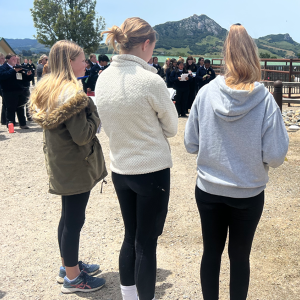 Competition season has kicked off for the Taking the Reins youth judging team. There are four girls on the team this year – Sally, Lacey, Tai, and Kaeli. They travel locally, and hopefully nationally, to adjudicate horse competitions. The first competition for 2023 was held at California Polytech San Luis Obispo. Approximately 150 students showed up to compete, and our girls finished high among their peers.
Being part of our judging team is a large commitment of girls' time and energy. Girls are expected to study material throughout the year so that they give educated decisions at competitions. They learn what technical things to look for like confirmation, combability of horses and riders, and suitability to the division. While at their competitions, girls judge different performance classes using the skills they have studied and practiced at home. They are asked to provide reasoning for the selections and ranking they make.
"Despite their nerves, the TTR girls did exceptionally well in their first competition," Danielle Garcia, TTR Youth Judging coach said. "The overall experience left them feeling inspired and motivated to continue their involvement with judging, in hopes of qualifying to attend the Arabian U.S. National competition held in Tulsa, OK in the fall."
Our team will attend more competitions leading up to their fall 2023 goal. They can qualify for nationals depending on their standings in local and regional competitions.
We are grateful to be able to provide our girls with these additional opportunities to learn about horses and gain real-life skills like public speaking. The travel and accommodations costs for this program can quickly add up. If you feel inclined to support this program, please donate at takingthereins.org/donate/.