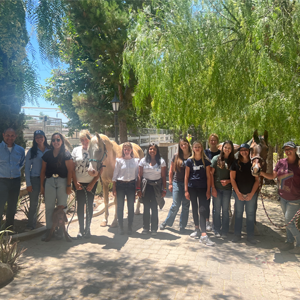 The age-old phrase "it takes a village" applies to many things that Taking the Reins girls get to do. Taking the Reins has a dedicated team of staff and board members, but also relies on their greater community to make things happen for their girls. Southern California Arabian Horse trainer, Dana Geatty and Arabian judge and youth educator Mark Stinson, both recently showed up for TTR in a big way by facilitating a youth judging competition at Geatty's facility Silver Star Training. Geatty and her clientele provided horses, while Stinson gave detailed feedback to the girls on the girls' reasonings.
"Growing up in the Arabian horse community, I have always loved how barns could come together and support each other in helping the youth realize their dream of working with the Arabian horse," Geatty stated. "When Liz reached out asking if I would be interested in hosting a mock horse show for the Youth Judging Team to practice their judging skills, I jumped at the chance."
After completing the session at Geatty's farm, the AHASFV youth judging team is officially able to participate in the national competition held at the Arabian Horse Association's U.S. National Championships this October. All four girls from Taking the Reins previously qualified to be on Arabian Horse Association of San Fernando Valley's (AHASFV) judging team, which consists of eight members. TTR will be represented by Sally, Tai, Kaeli, and Lacey. Students had to earn their place through multiple competitions over the last few months. Leading up to competitions, students study their materials and practice providing oral reasonings for their decisions.
Students perform once during the national competition and are assessed on individual and group measures. In addition to the youth judging competition, TTR's four girls will also be participating in the hippology competition. Danielle Garcia, TTR youth judging coach and Liz Aulestia, TTR Equine Manager will join the girls in Tulsa.
"The girls work so hard year-round," Aulestia said. "I am so excited to see them test their skills with all the other kids around the country."
Coach Garcia is a past TTR student and competed in Tulsa when she was a teenager. So, she describes this experience as being very full-circle. Garcia's commitment to the program is another example of how the TTR community shows up for their girls.
Participating alongside the AHASFV club is something TTR is very grateful for. "The AHASFV does a wonderful job of including and engaging the local community," Jane Haven, TTR Executive Director shared. "We are proud to sponsor our girls' membership to AHA and AHASFV. Our girls benefit from being included in many of their endeavors. I want to commend and thank their leadership."
The local club has generously sponsored the travel and lodging for the October event, but TTR is raising money for additional expenses like curriculum materials here.