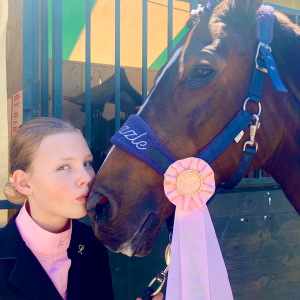 Taking the Reins student Lacey is still on a high from her first show with the Taking the Reins show team in early April. The weekend ended up including more firsts than originally planned. As Lacey's excitement grew the week leading up to the show, a brand new horse, Moonlightt Cyzzle, arrived at the barn.
Equine Program Manager, Liz Aulestia is very familiar with Cyzzle from the years he spent showing on the Arabian Horse circuit. When Lacey and her planned equine partner started to have some issues, Aulestia knew Cyzzle would be up for the last-minute challenge.
That same week, Los Angeles was hit with a huge rainstorm. So, Cyzzle would have to wait until they got to the show grounds for his first ride as a TTR horse since their home arena is uncovered. As expected, Cyzzle was great for his first ride and ready to meet his new rider.
"Cyzzle made me feel a lot less nervous," Lacey said about her new companion. "From our first ride, I felt like he was the easiest horse."
Lacey loved spending the weekend with her fellow team members. She said that some of the older girls reminded her to have fun, which helped alleviate her nerves just like Cyzzle did.
The duo ended up being the reserve champion high point of the whole show. After their debut at the Route 101 ETI show, Lacey has enjoyed riding Cyzzle at home and growing their relationship. When asked if she wants to show again, she let out an excited "yes!" Lucky for Lacey, she and Cyzzle will be competing together again the first weekend of June!