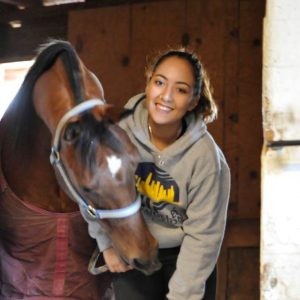 Since she began participating at Taking the Reins in the sixth grade, Danielle has become an accomplished equestrian, a mentor to younger students, a paid instructor at a neighboring riding program, and a student in TTR's signature Hippology (all things related to the science of horses) and Judging program.
In 2016 Danielle earned a spot on the Southern California Youth Judging Team that competed at the US National Arabian Horse Show. She and her teammates competed with 21 High School and College teams from across America and Canada, finishing second in the nation in Performance Judging with Coach Meagan Schaffer.
Scholarships at Colleges throughout the country are available to youth competing in Equine Science and Judging, and we have no doubt Danielle will be a recipient.
To learn more about Danielle and her journey at TTR read her essay, "My Story".