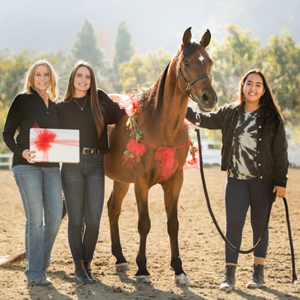 "Always remember that once a horse has touched your soul, they will always be with you."
In times of celebration, and in times of sadness, you turn to friends for support. Right now, we are coming to you with some very sad hearts. A beloved member of our herd "Scotty" was laid to rest on Monday, May 1.
Supernatural PR was bred, born, and raised at Pine Ridge Arabians in New Mexico. Accomplished breeder, trainer, and judge Gary Dearth, along with his wife Karen, gave him a wonderful start.
In 2010, he was purchased by the Pigott family of Highland Pride Arabians for Caitlin. Under the direction of Cynthia Burkman of the Burkman Centre, Scotty and Caitlin enjoyed many years together in the show arena. They earned many regional championships and national top tens in country pleasure and show hack. Scotty also showed at the open and amateur level with Cynthia Burkman and Caitlin's mother Alison.
"I am a professional writer, but it's proving to be difficult to articulate what Scotty meant to me in words," Pigott shared. "He was my first English horse, which meant he had to be patient with me learning a new discipline. Scotty gave me unmatched confidence. It's no mystery that with a heart like his, he'd spend his final days at Taking the Reins – gifting countless other girls the same confidence he gave me."
Scotty continued his show career for a few years after Caitlin went to college. He then moved home to her family's barn. The Pigotts have known Jane Haven for many years and felt like Scotty would be a good fit at Taking the Reins. In 2017, "Scotty the Volunteer" was born.
Scotty quickly took to the program and became a barn favorite. Girls of all ages enjoyed his goofy personality and loving spirit, but from the beginning, he had a special connection with student Danielle Garcia.
Danielle and Scotty were best friends. She spent as much free time as possible with him at the barn. They competed, trail rode, and found that once-in-a-lifetime horse and human bond so many of us yearn for. Their bond grew over the years, even as Danielle completed her time at University of California, Santa Cruz. It was an undeniable connection. On December 20, 2021, the Pigott family gifted Scotty to Danielle for Christmas.
"Those two deserved to belong to each other," Pigott shared about the decision to give Scotty to Garcia. "My mom and I don't part with horses often, but we felt we needed to do for the both of them. Scotty was one of those horses who climbed into your heart. There is not a doubt in my mind that he came into our lives in 2010 so that he and Danielle would find each other. I consider it a true blessing to have been part of his story."
Once things became official at the end of 2021, Danielle and Scotty kept on with their adventures. Scotty continued to be an active TTR horse, while enjoying time with his human Danielle. In 2022, they showed at a class A Arabian horse show where they won almost every class they went in. But for Danielle, Scotty meant so much more than any ribbon.
"Scotty was more than just the patient and gentle horse who was ready to rise to the level of his rider," Garcia shared. "He was a true partner in life who gave his all and asked for nothing in return. He embodied the spirit of trust, loyalty, and selflessness that we all strive for in our human relationships. I feel at peace knowing he lived a life full of love and joy. Until his last moments, he shared my burdens – never showing me the pain he was truly in. I will be eternally grateful to the community that allowed him to be a part of my life's journey. I hope now that this chapter has ended, his legacy of love and kindness will carry on in all the lives he touched."
No number of years is enough time with a horse like Scotty. The entire Taking the Reins family feels this loss. Please keep Scotty, Danielle, and the rest of us who loved him in your positive thoughts.
Watch his tribute video here.