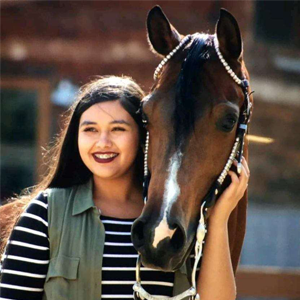 Sarah is a junior at Cal State Long Beach pursuing her degree in animation and preproduction. She also is one of many Taking the Reins alumni who credit the organization with giving them valuable life skills. For Sarah, she says her work ethic and confidence are the two most significant things to carry over from her time at TTR.
"It was motivating for me to go to Taking the Reins," Sarah shared. "It was my everything. I felt welcomed and like I belonged."
Sarah spent about three years at Taking the Reins where she took advantage of many programs. She was in the riding and gardening programs, along with competing on the hippology and show teams. The memories are clearly special to her because Sarah still has ribbons from her days traveling with Equine Program Manager Liz Aulestia and her peers to competitions.
She also thanks TTR for what she learned about healthy eating habits through the gardening program. She shared that learning to grow and cook her own food was good for her and made her feel like she had accomplished something.
In addition to her work ethic and confidence, Sarah also says that Taking the Reins encouraged her to become more of a leader. This was not an innate trait or desire of hers, but the staff and experiences at TTR helped expand her comfort zones. She currently serves as the president of the animators and illustrators society at her college. Sarah also does freelance storyboard art for Mattel. Although the content of her studies may not reflect the time she spent at Taking the Reins, she learned transferable skills that she will keep forever.
"Taking the Reins definitely shaped who I am." Sarah said. "They gave me an opportunity to show who I am and shine."
Sarah reflected on the years she spent at Taking the Reins with mixed emotions. She shared that there were very difficult things happening in her life, but spending time at Taking the Reins gave her a chance to escape.
"I thrived at Taking the Reins," Sarah said.
As an alumna, she has a unique perspective on why the current and future generation of girls need the programming and experiences that Taking the Reins has to offer.
"There is a severe lack of resources and programs for girls," Sarah stated. "Taking the Reins does a good job of being diverse and pushing girls to do more than they might think they can. Taking the Reins shows us how much we can do, which is very important."
Taking the Reins is grateful for the alumni who stay connected to their mission and needs. In order to continue helping girls like Sarah grow up to be thriving adults, Taking the Reins needs support from their community.  Donate to Taking the Reins here.