WHY L.A. GIRLS NEED TAKING THE REINS
Teenage girls everywhere face a multitude of challenges as they try to mature into confident and successful young women, but girls living in high-density, low-income areas face unique concerns that Taking the Reins directly addresses:

Taking the Reins is a positive, centering force for girls that puts them in positions of leadership and gives them the chance to feel success in a non-academic environment.
Riding a horse requires confidence and discipline; riders must have faith in themselves and trust their horse. The rider must go forward without an exact guarantee of the outcome. The success girls achieve in learning to ride coupled with the leadership skills they gain from handling a horse translates into success at school. "Riding teaches these girls that if they stick with something, work hard they will eventually master it."
The development of a strong work ethic and the self-assurance that working with a horse demands reaches beyond the schoolyard and the stable—as girls become good self-advocates they realize they are in control of their own destinies and can affect positive change in their schools, communities, and lives.
 Why it matters:
Many schools in Los Angeles are overcrowded and lack resources—participants at Taking the Reins feel lost in the crowd at school and skate by without ever striving. The likelihood of these girls to graduate from high school is appallingly low (one in three LAUSD students drop out before graduation; the majority in 9th or 10th grade).
Middle school experiences have proved crucial to keeping kids in school. Taking the Reins works with girls at a time when they are most vulnerable to feeling overlooked and under stimulated, opening up a sense of the possible by exposing them to new opportunities, and teaching them the tools they need to be responsible, compassionate leaders.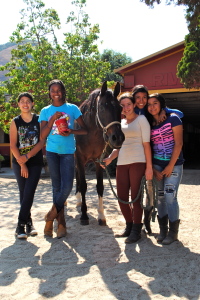 Taking the Reins is a safe space for personal growth and a diverse community that encourages girls from different neighborhoods to work together to accomplish a common goal.
In daily life, girls from different schools and even different tracks do not intermingle—and when they do, conflicts often arise due to ethnic tensions or economic disparities. We build bridges between diverse groups of girls by teaching tolerance, communication skills, and teamwork.
TTR is a special place where all girls can feel safe, plus our high staff to participant ratio makes mentorship a priority and allows girls the attention they deserve.
TTR forms a stable community—some girls even call it a family—students can return to for years to come. While here girls build relationships with the horses, the staff, and with each other.
Why it matters:
71 percent of seventh graders report that they lack a caring relationship with a teacher or other adult at school. A recent report for the United Way of Greater Los Angeles concluded, "The support of a caring adult is critical to the success of middle school students, but very few have it."
Plus, almost half of LAUSD middle-school students do not feel safe at school and 13 percent have carried a weapon onto school property.
Feeling unsafe perpetuates violence and prohibits kids from focusing on personal growth and education.
Diversity allows girls living in a highly stratified city to encounter, engage, and befriend girls from other neighborhoods, which exposes them to new ideas and a larger sense of civic participation.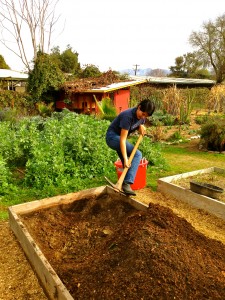 Taking the Reins offers girls the opportunity to participate in a challenging, physical activity and makes a healthy, "green" lifestyle more accessible.
Girls need to be outdoors and physically challenged but Los Angeles has few parks or open spaces. Residents of Los Angeles's City Council District 13, where many TTR participants live, have the least amount of green space in the city and the obesity rate among kids is nearly 30 percent.
At Taking the Reins girls can be active, outside, and have a relationship with nature that is available to few urbanites. They gain physical, mental, and emotional strength through horseback riding and barn chores.
Our organic garden and nutrition classes provide a hands-on experience of environmental stewardship. Raising a plant from seed to skillet is an experience few girls forget and they are eager to share the harvest of their labors with their families.
Why it matters:
61 percent of girls aged 9-13 do not engage in any organized physical activity outside of school and 26 percent are classified as "sedentary outside of school."
9th grade girls in LA have the lowest fitness ratings of any age group!
Rising obesity and the onset of childhood diabetes threatens lives and cause budget crisis as public health costs escalate.
Preventative measures, like healthy eating and exercise can offset these problems but the people who need it the most often have the least access to fresh food and the outdoors.
Taking the Reins makes a healthy, green lifestyle accessible to folks outside of the elite Whole Foods demographic.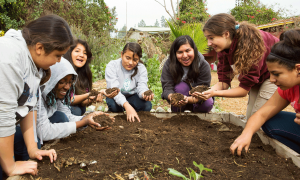 Taking the Reins teaches girls creative and critical thinking skills that allow them to meet unfamiliar challenges and offers enrichment activities that can help offset the achievement gap.
Our programs encourage girls to explore new fields of knowledge and self-expression. Girls increase their reading, writing, and visual literacy skills, and our curriculum fosters critical thinking skills that will serve the girls in any academic discipline or future career field.
Girls who continue learning activities while on vacation and/or outside of the usual school structure better retain the developmental abilities they've gained in the classroom.
 Why it matters:
A study on the impact of summer vacation on student performance concludes: "When it comes to reading skills, poor kids learn nothing when school is not in session. The reading scores of rich kids, by contrast, go up by a whopping 52.49 points. Virtually all the advantage that wealthy students have over poor students is the result of differences in the way privileged kids learn while they are not in school.
"…for its poorest students, America doesn't have a school problem. It has a summer vacation problem."
Taking the Reins helps fill the gap while girls are out of school, continuing the development of thinking and literacy skills through our Learning Center Programs.
Our curriculum encourages girls to be innovative thinkers, confident in their voices and creative ideas.
We encourage girls to take risks within a safe, controlled environment, which fosters entrepreneurial thinking and creative problem solving.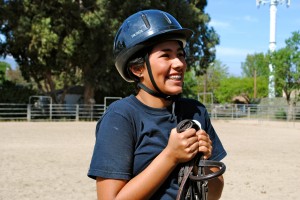 Taking the Reins empowers girls to believe they are entitled to success and gives them the confidence and skills to follow their dreams.
After completing our programs, we've had girls who have never before had a family member graduate from high school go to top colleges. Despite the fact that these girls lacked all the major resources required to accomplish such a feat, they did it. How?
These young women possessed the conviction to believe in the "impossible" for them. (At one point, riding a horse seemed impossible to them as well!)
Taking the Reins helped them develop an awareness of their choices, fostered an aspiration to achieve, granted the confidence to know they could, and provided the knowledge, skills, and opportunity they needed to get them to higher education and beyond.
Learning to ride a horse is just the beginning; taking the reins of one's life is the result.
 Why it matters:
Empowered girls grow into active, capable, confident women who affect positive change in society. As a United Way study on the status of women in Los Angeles concludes, "To avoid the risks of poverty, a woman must prepare to be economically productive through their choices in education, occupation, employment and family responsibility."
We don't want our students just to avoid poverty when they grow up; we want them to thrive as entrepreneurial leaders, creative innovators, and successful forces of change in the world.
This process of turning what seems to be an insurmountable obstacle—the "impossible"—into endless possibility, starts with a horse.
Taking the Reins
   Empowering girls through horsepower!