Taking the Reins transforms the lives of teenage girls facing the challenges of adolescence in high-risk environments.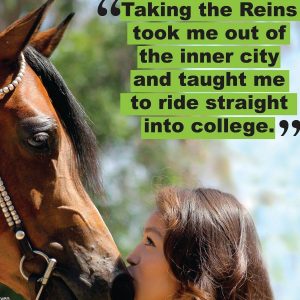 Changing Lives
Founded in 1998, Taking the Reins offers a unique experience in the heart of Los Angeles.
Located on two and a half acres, TTR serves more than 350 girls a year with approximately 26,000 teaching hours.
Teenage girls everywhere face a multitude of challenges as they mature into confident and successful young women; however, girls living in high-density, low-income areas face unique concerns that Taking the Reins directly addresses by teaching responsibility, fostering enthusiasm for nature and offering a safe and stable environment in which to thrive.